Yesterday Janet and I went to run at the Crystal Springs Watershed. It is a protected area and not available to the public. The only way you can get in there is with a docent. The docent has to open the gates he/she must remain with you for the duration of the run/walk. Suki Martin and George Miller, our docents were the "supervisors" making sure we were not got lost and or abuse the trails.. The views were amazing and as always it is good to get out there and run.
This time it was for a cause as well, the Coast Side Running club is sponsoring an scholarship fund for one or two deserving cross country high school runners. This run was part of their efforts.. We were privileged to run in this beautiful pristine area in exchange for a donation that would go directly to their scholarship fund. I think it is an amazing cause.
A pic of the runners previous to the run..
Of course the source of this run was Janet's email. She forwarded me the invitation and I gladly accepted. I have run this trail before, a year ago with my running club So I knew how beautiful this trail is, so without hesitation I wrote Geroge (the organizer) and put my name down. It is alwasy fun to run with Janet, she is such a talker and a good listener too... Or maybe she pretends to be.. :)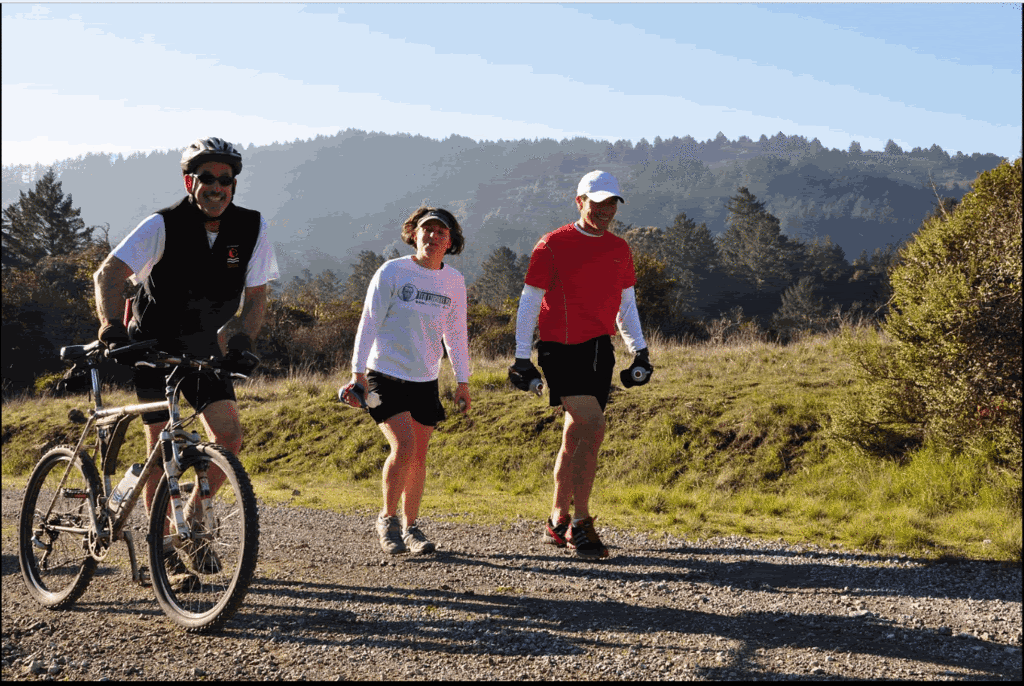 So this is officially my first long trail run of the year, although I ran 10 miles on the first of January in Woodside with Nicole. However a long run to me is anything longer than 15 miles… I guess I am moving up a notch.
The run is of course was self supported, so we did not have any aid stations or anything of the sort. I usually get hungry really fast, so I made sure to eat plenty before going there and took a couple of bars with me. There was something wrong with my tummy, I just could not get in the grove until mile 16 or so. I had to go to the bathroom two times and I was not very happy. As I said, I was hungry; thank God they had some fig-newtons. I had some of those, they gave me a new wind, therefore I miss the assorted items of the aid stations put together by Sarah and Wendell (PCTR). I was not feeling all there, thank God this run was not a 50 K, otherwise I would have been in so much trouble.

But back about the trail, as I mentioned, this is a beautiful place. The trail (fire road) is well maintained and not technical at all. There were some climbs, nothing major and Janet and I like always talked a little (not). We always have something to talk about, this time we talked about.. hummm.. … Well if you really want to know you have to join us in the trails.. It is fun, really fun.

Happy kids...
Suki Martin (our docent and ultra runner phenomenom) and me..

Another set of good news, a few weeks ago I signed up for the lottery to get a slot at the Miwok 100K. Yesterday they announced the people that got slots to run this great race, Janet and I both got in. I am really excited it will be 100K or pure fun.. I haven't gotten sick since Mount Diablot 50Milers, and my IT band has not flared since a few months ago. I believe that the new found fitness and lack of injury has been because I started to do CrossFit. Saul, my trainer has explained how doing some major strengthening will help my running, I can see it and I am happy.

All right, for this month I hope to do another race 50K perhaps, that will help with the Moab 100Miler training. I am so excited about this.. but then again I get excited really easy over really little.
Wanna see more pictures?.. click here and click here