The Quad DIPSEA…
Well I did it… The Quad DipSea was an amazing race.. What can I say about this race.. There is no way I can describe it.. Lets see, woke up early in the morning and made my way to the city in a rush to pick up Janet. The day was a little cold, I thought, but I was hoping it will warm up a little. I did not have time to get my usual pre-race "breakfast" so I got a bagel and a banana and ate in my way to the city. Janet was kind enough to brew a cup of tea for me… We were in our way..
I got to say, I was a little nervous about this race. Not only because of the distance and the elevation gain, but because I was afraid that my IT band was going to flare up. I was also nervous because the elevation gain is dauting and most importantly I was afraid that I was not going to be able to keep up and I really wanted to do good. We trained here so we kind of knew what to expect.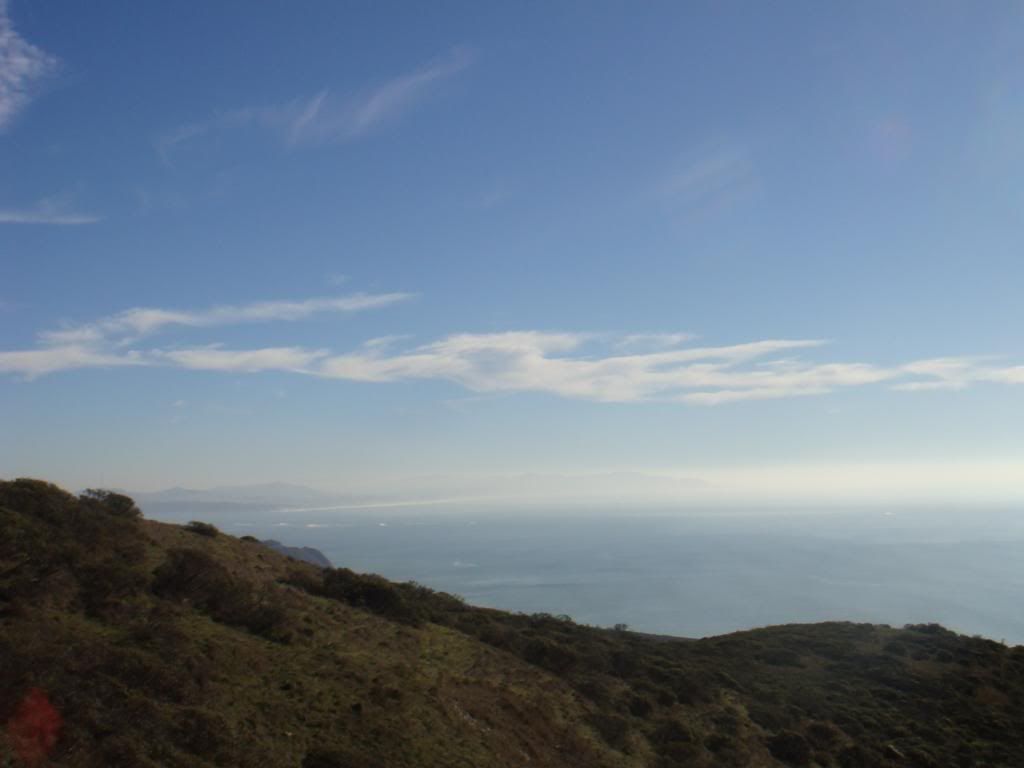 And we were off… Seeing all of those racers was an amazing sight. Specially while going up the stairs and looking up or down and all you see is a mass of bodies trying to move up the first flight of stairs, and you knew that this group was amazing. Anybody that attempted this race is a bad ass runner.
Check out the start... going somewhere? I took this picture at middle point of the first flight of stairs.
Same stairs starting our second and final loop..

Janet and I kept a steady pace through the first loop… we made it to cardiac hill feeling relatively well.
Cardiac hill is a very steep ass hill that you definitely cannot run unless you want your heart pump out of your chest.
A steady walk to the top put us at the first aid station where we ate plenty.
I love watermelon and they had it there...
I usually dip the watermelon on salt to make sure I have proper amount of sodium since I sweat like a pig.
I also got a peanut butter mini sandwich and a gu and we were on our way to Stinson beach.
Before getting there we saw the leader coming back.. Erik Skaggs is an animal He ran the full race in 3:52:16 what It took us 6:21:00. Can you imagine running that fast in those conditions?. It was amazing, that guy was running fast. We finished our second leg (midway point) at exactly 3:08 a full minute faster than our best time in training. Janet said, "Damn, we are going too fast". I agreed, but it felt right.
We ran a very strong third leg, I was leading coming into Stinson beach and Janet said.. "you got some reserves huh" And I had plenty… I felt really strong and Janet was there with me until Stinson. Going back she took the lead and we passed a couple of people. We talked about catching up at least 5 people in our way back and with that in mind we picked up the pace a little. It was great to focus on somebody and just pass them… Reached the aid station and we were feeling strong that we really did not need to stop for long. We started moving along and we passed 5, then 6, then 7 then 12 and finally the 14th person. At this time we were trucking and not believing how well we were doing at this point of the race. We decided to see if we could make it 15th, but unfortunately we did not see anybody else ahead of us so we literally sprinted to the finish line to make it under 6:30 which was a very lofty goal of ours.
And I feel s good, I think I want to do it again.

All in all I got to say, this has been one of my most memorable races. Felt strong throughout the whole race and with the insane elevation gain and loss I was afraid that my knees or my quads were not going to be happy.. I was afraid that my IT band was going to kill me and I would have to limp to the finish. None of it happened. We ran a great race and I have earned the right to wear the shirt they gave us with a Quad DipSea logo on it.. Oooohhyyyeaa!! We rocked the course.
I have been going through some stuff in my life right now, and this race along with an incredible thanksgiving dinner made me realize that I am a very fortunate individual. I am surrounded by great people that care about me and even after 20 years some remember me quite well. Janet has been a running blessing and I am so glad we are friends..
All in all I think everybody seemed to had enjoyed themselves, but then again If you are running this type of races, and you think that punishing yourself is fun… come and join me in my next adventure which probably be a 50K next weekend.
Wohoo!! What is next… 50K next weekend? Why not?