Oh crap… this has been the hardest thing I have done… Oh wait, I said that before, good thing I have bad memory. Well, it is done; the Headlands Hundred endurance run for 2009 is in the history books and I did better than expected.. OMG what a feeling.
The Headlands Hundred is an elite event put together by
Pacific Coast Trail Runs
an incredible organization. The course is too complicated to describe, better see for yourself. For a flyover of the course
click here
. But I have to tell you, it is amazing. I enjoyed it a whole lot although it was also very challenging. It has over 20,000 feet of elevation gain and consist of 4 25 mile loops. You go in one direction (clockwise) and then, you do the loop in counter clock wise direction. Very scenic and as I said, challenging. Check out the elevation profile Click on the profile below to see in full scale.
Let's see, for starters I knew some people at the race. So I was looking forward to see them in the course. Sarah Spelt is an amazing person and I cannot tell you how lucky we were that she was there with her welcoming smile. She made the day for many of us..
For the longest time I debated even registering for this event, I even tried very hard not to think about it. But being the dork that I am, I was ready to sign up right when I knew I could do 50 miles on that course. I did a training run there with Mark and after that day I decided to register. That was a few weeks ago and then the week of the race was upon us. And just a few days before the race I got an email from my Pacer, Janet. She said she could not do it because she had fallen ill. And I started to panic, so I called a few friends and finally found Suki Martin. She agreed to pace me from mile 50 until the finish. That was amazing to think that somebody would just run with you for 50 miles. I am really thankful and I hope I can return the favor somehow.
The day of the race, met with Mark Thiedens at 5:30 am in the morning. I did not want to have issues with my alarm clock like I did during Miwok 100K. So I asked him to give me a call early in the morning. He did, and I had plenty of time to get ready and eat lots. Mark was very cool about driving, I knew that driving back might be an issue, but he did not mind. Joe Kelso was following him as well. Joe completed the 50miles in record time; he is a star in my book. But in any event, we drove to Rodeo Beach and once we were there I realized that we were about to run 100 miles.. Can you believe it?
I met Kim Evanson, my doctor friend, the one that told me about a toenail necklace. Which by the way it will be three toenails richer in few days. I saw many other runners, too many to mention here. But the truth is I was in good company, I was in crazy good company, yay..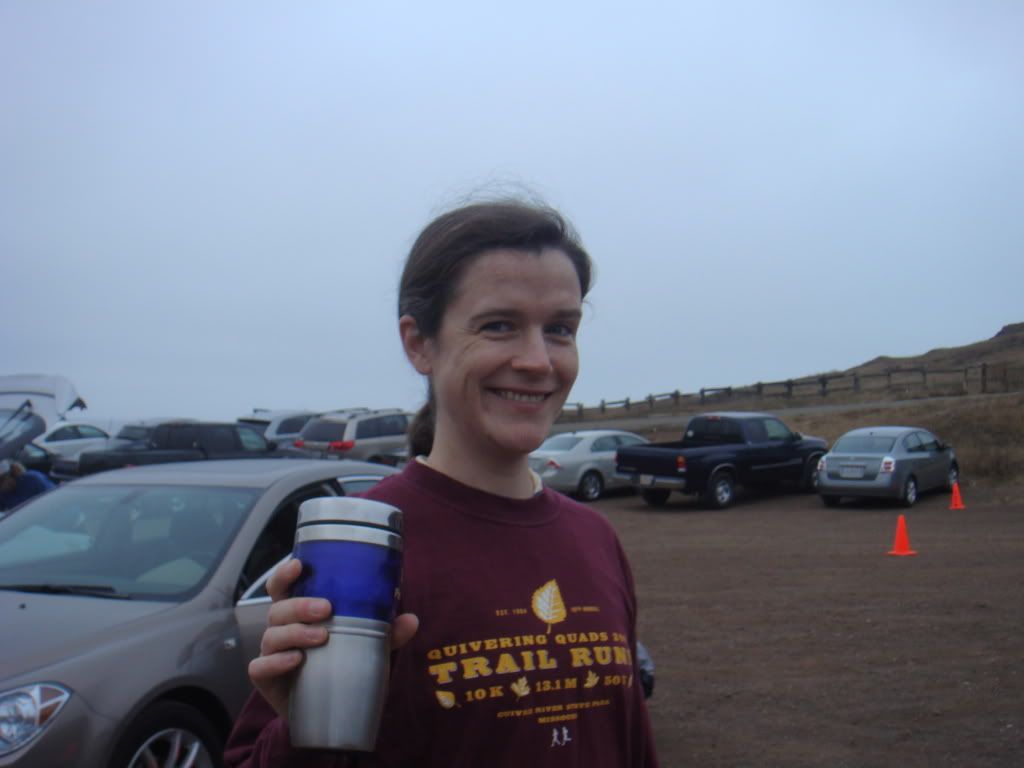 Kim Evanson prior to the race.. :)

The weather was perfect, perfect running weather if you ask me. It could had been very hot up there or windy, but it was none of those things. In fact, I really believe that the running Gods were with us for most of the way. It was a little overcast and the windy was very mild. During one of my training runs in the course, the wind almost knocked me over. So I was afraid that it was going to be an issue, especially at night. But it was not, the wind God was asleep.
Kim, Mark and I settled in a good pace for the first few miles, we chatted a lot and we had plenty in the tank. Kim and Mark actually met before so we had plenty to talk about and we did. We talked about the weather , we talked about the
infamous toenail necklace
and other oddities. It was great conversation for a good few miles. We ran together until mile 15 or so, then Kim stayed behind and Mark and I pressed on. We kept looking back to see if she would catch up, but she did not.
The freaking volunteers were amazing; I really think they also need a coaster or a medal or something. Some of them were for the entire time that the race went on. I am amazed that people will actually take some of their free time to go spend it filling bottles, cutting up bananas, making peanut butter sandwiches, and giving encouragement to runners. Can you believe it? I think that it was harder to volunteer than actually run the race. I mean, mentally you got to be crazy enough to do that.
Anyway, back to the race, Mark told me that he wanted to use the bathroom, we were going for the first time close to the YMCA and there was a bathroom there. However, it was occupied. He said we will go to the next one and I just could not wait any longer. I peeled the banana and went right there. That was the first of only three times I went to the bathroom. Yes, I only peed three times during the entire race. Call me crazy, but I thought I was shutting down. I kept drinking water; in fact I drank a lot. But I guess I was sweating a lot too and the fact that I was not peeing made me think about kidney shutdown. You see, I took a preemptive Tylenol dosage, I took 4 Tylenols right after the first time I went to the bathroom. Mark asked me, "what is it hurting?" and I said "nothing really". The fact is that I wanted to have some pain medication in my system, just in case. But anyway, I peed two more times, and for the entire second 50 miles I did not go to the bathroom at all. I was worried, but I kept drinking water, in fact I drank a whole lot, I was simply just not going. Thank God I did not have any issues, I guess I was drinking but not enough, or I was sweating a lot or something.
When I came back for the first 50 miles, Mark and I were still running together. We changed out socks, changed our clothes and I grabbed my flashlight, Suki was waiting for me and then we were off. Unfortunately I did not check my flashlight prior to the race, and for some reason I decided to check it after we climbed the first hill. Then I saw it, I realized that the batteries in my flashlight were spent. I panicked and Suki told me, ok, let's go back. Mark said, "I am going to continue, I'll see you later". We started the trek back to the starting line and a fellow runner offered me a light he had at the next aid station. So I took his offer and decided NOT to go back and just pick up my light at mile 75. We got to the next station (Tennessee Valley) and I went looking for the runners bag, we found the flashlight and I was happy. Unfortunately, his battery only lasted a few hours and by the time I really needed the lamp the battery was done. Suki and I shared her flashlight which was a little difficult during the single track portion of the trail. She had to somehow light my way and her way, not an easy task. She even twisted her ankle, yet she was strong enough to get me through the finish line.
And then, I developed a big freaking blister on my left foot. I changed socks at mile 50 and my feet were OK then. Then I just remember that I got some sand in my left shoe, some sand that I did not take care of right away. Well I should have, at mile 70'somehting I knew I had a blister. I could feel it, I had no idea how big it was and it became very painful to run so I started to limp. Well, after a while my hip was hurting and then my right ankle started to hurt as well because my stride had changed considerably. After we reached an aid station I asked if they had any tape, I cleaned my foot well and put some tape on it. I knew it was going to hurt whenever I was going to take it off, but I had no other choice. After I taped my blister it felt better and started to jog once again. Just a little faster, but not fast enough to make up the time I had lost.
The Sun was coming up again and once I reached Tennessee Valley (the last station before the finish line) I knew it was the end. Suki started to run and I tried to keep up… we made it to the finish line in 25 hours and 30something minutes. I could not believe it, I was so freaking happy I finished yet alone finished such time, in such course. I thought I was under trained, I guess I underestimated myself. I told some friends that I was going to make it sometime between 28-30 hours, and here I was going almost 3 hours faster than my prediction. I was happy and I knew that if I could have taken care of my feet, drink more water and remember my flashlight batteries I could have done it under 24 hours. The truth is, I will never know. But there is always next time.
Suki and I finishing the race... yay!!
As I finish writing this report, I think about the feat that I just completed. It makes me freaking happy to know that I can push my body to those limits. And I am so looking forward to the next one, Western States 100 Perhaps.. I am also trying to understand myself better, what did I learn from this experience? Besides the obvious, take care of my feet, drink more water and bring extra batteries with me, I learned that I am stronger than I think I am and I love that feeling…