Well, So I drove 12 hours from San Mateo to Tempe AZ . I was not looking forward to the return, but I knew it was going to be just as great. You see, I had to make a decision a while back, drive or fly. I always wanted to go on a road trip and since I signed for this IM, I decided I wanted to drive, fast forward a year later and BAM I was in my way to AZ and after a grueling 12 hour drive I got there… But that is what I wanted huh?
The trip was uneventful, left home around 6:00 am in the morning and did the mandatory pee stops, food stops and gas stops, but other than that I was moving all the time. I was afraid that LA traffic was going to slow me down, but it didn't. It was moving quite well and in fact with all of those cars in the highway I was moving pretty fast. I kept looking at people for signs of other triathletes making the pilgrimage to Tempe, but found none.

I really liked the road by Pismo Beach. The weather was perfect and I wanted to stop and take pictures, but I knew that I was on the clock so I had to just keep going. I took some "moving" pictures though.

I had plenty to think about while driving there.. It was me myself and I… and Jessica packed really nice and comfortable in the trunk. I was listening to my Ipod and song after song I kept thinking how much of this I can actually stand. No play list was long enough, so I switched to shuffle… and MY GOD… what an experience. I have all sorts of music there, but I started to listen to the actual words of many of the songs I have…. And… well needless to say many were so freaking pathetic. It reminded me of a "this American Life" episode from NPR about breakup songs. They all have that theme, that sorry ass theme… you know what I am talking about. The "you don't have to love me", and "please don't go" theme. And the most pathetic of them all, "I'll do anything", and I was thinking, WTF? But then, just like breakups, in the middle of the shuffle came this song that was about to become my personal anthem. I heard it before, but now I know it by memory, Guru Josh project, Infinity. It goes something like this.


Here's my Key Philosophy
A freak like me
Just needs infinity






I played that song again and again and again, and the more I played it the more I like it, and before I knew it I was in LA.

Driving through LA was very interesting, and made me more aggressive driver. Crap, I was not going to give any room between me and the car ahead. I know, drafting is illegal, in triathlon that is, but in LA traffic is a necessity, or is it called tailgating. I don't think I will be able to live in such city with such traffic, I will probably cut my veins pretty fast and then I was there…. Found my hotel and checked in, took a shower, grabbed a bite to eat and hit the sack…. Ahhh… felt so good..

The next morning I went to the swim, just before departing my hotel room, I thought, I should go early so I can stop at a coffee shop and get myself something to drink/eat. I had no idea that Tempe is so freaking confusing (for me at least). I could not figure out where I was supposed to go, and then I could not find a parking spot. Well, I made it finally to the swim area, I had just enough time to get on my wetsuit and take a dip on the lake. And OMFG, have you had brain freeze? Well that is how I felt when I hit the water. Water was so damn cold and my feet and head were hurting. As soon as I started swimming, things got better, blood started to flow and then I was OK. But the initial shock was a little hard. Another interesting fact about this swim is that the course is straight in a wavy canal. So If I want to stay to the shore, I will have to swim the extra yardage. Most likely I will be in the middle and hopefully will draft somebody and find my way around…


After the swim, my friend Dolores and I went to check in. Checking in at an Ironman is pretty good experience, most volunteers are in awe that you are going to put yourself through that kind of pain. And the first question usually is, is this your first? The second question, did you bring your family? The answer to those questions for me was the same, no and no. It is not my first, and I was there by myself, most people bring loved ones to share this moment. The IM race is kind of a big deal, and I was there on my own. It made me realize that the three IM's I have done I have gone on my own, and it made me a little jealous and sad. But Hey, not time to be sad now, I have to get ready to do an Ironman damn it.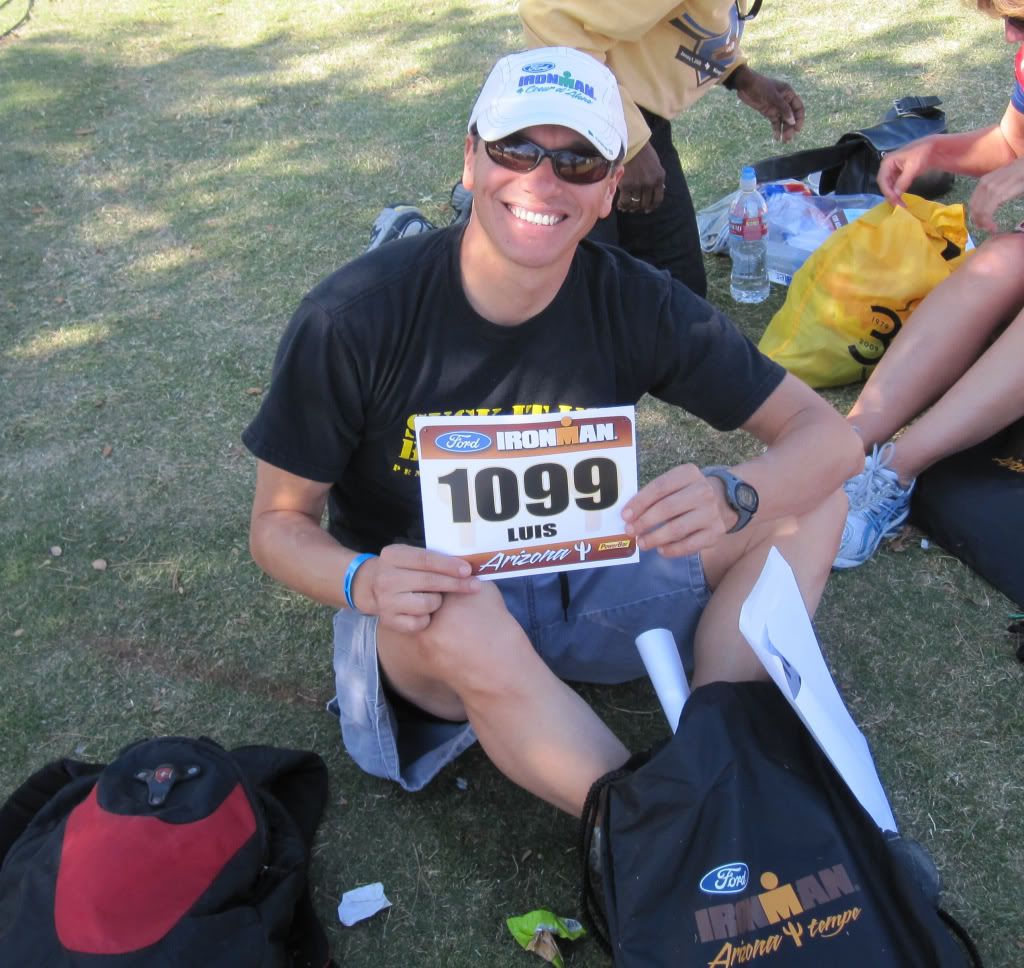 I don't really know how the rest of the days went through; on Friday evening we had athlete's dinner and mandatory meeting. It is here where they try to pump you up for the pain that is ahead. It is here where you learn of the amazing people doing this race with you, it is here where you feel the energy of the IM event.. It is pretty awesome. I was sitting next to Joe, a great friend of mine from Texas. We were chatting away and then, Mike Raily said please stand up if you lost weight getting ready for this race. My friend from Houston stood up, Mike said, remain standing if you lost more than 20 lbs, 30 lbs, 40 lbs all the way to 80lbs. There were only three people standing including Joe, they were called to the stage and were asked how much weight they lost preparing for this race. Joe had lost over 100 lbs, it was pretty cool. The next group of people called to the state was the oldest and the youngest IM participants. The youngest was 16, the oldest 70somehting. He was such a funny guy. He took the microphone and gave us a really good pep talk. He said, I love doing this, specially because half of my friends are dead, of the ones still alive ¾'s are in assisted living and or don't remember who they are. It was hilarious and very inspiring as well. Finally they introduced Rudy Garcia-Tolsen. The first above the knee double amputee to attempt the race, he did not made the cutoff in Kona, and he was going to try to become an Ironman in Tempe… Amazing young guy, more on him later.

The day before the race I took my swim to bike and bike to run bags. In these bags you pack everything you need for those events. I was like, "what am I forgetting?" I see people walking around with these bags and they seem to be pretty full, mine were pretty minimal. I kept thinking, "what am I forgetting?" Happy to report that I did not forget anything, I guess people were adding more stuff than needed. Fuck, I could not remember for the life of me what else to put in there. I actually put two pairs of socks in my bike to run bag just because I wanted to have the feeling that I put something there. It was hilarious.

And then it was race day…. Wooohooo!!!

I woke up early, ate my usual thing, (bagel, cereal) and drove to the race start. I had plenty of time and I knew where to go this time. Arrived there with plenty of time and went to check on Jessica. She was there all pretty, I check her tires' pressure, and loaded her with my nutrition bottles. I took a picture of her and told her to take care of me this day, I told her "please what ever you do, do not get a flat today". A couple of guys looked at me like I was crazy, talking to my bike… and I thought.. "sheesh, beginners"


I put my wetsuit on, turned in my dry clothes and went to the starting line. I could feel the energy, and of course the fear of the IM virgins and experienced. And the funny thing is that I was anxious, just like the first time. I knew what to expect, but still it was nerve wrecking. Got into the water and or course it was damn cold. Just like the first time I got into the water, I felt like my brain had instantly froze and my feet, oh my poor feet. They started to hurt, like I was being slapped with a sack of needles. I could not wait to start the swim; I knew it was going to get better once I started the swim.

Then, a massive release of adrenaline as the cannon goes off and everybody starts to swim, and just before I turned horizontal to start the swim, I felt this kick right on my groin. It was painful and I just stayed there unable to start the swim. People in the back kept hitting me and pushed me and I realize that this was not going to get any better anytime soon, so I started to swim, forward, but slightly to the right, toward the edge. I grabbed a boat/surfer/something and my goggles were wet, tears were coming down my eyes.. I was in real pain and the race just had begun. I don't know how long I was there it could had not been more than a couple of minutes, but then I felt better or the pain went away miraculously, and I started to swim. And then before I knew it… it was over. Got out of the water and went to the strippers or peelers what ever you call them, I went down and they pulled my wetsuit off.



The transition in an Ironman is something amazing, they have millions of volunteers and they are there to help you. Most of them are triatheltes themselves so they know what to do. As soon as my wetsuit was off, a volunteer guided me to get my swim to bike bag; he helped me to empty the contents and made sure I did not forget anything, from sunglasses, to my little salt pills, and helmet. I was out of the changing tent in no time and then I was greeted by the "sunscreeners" another set of volunteers whose only job is to make sure you get plenty of sunscreen. And then I was off biking for a mere 112 miles, not bad.

The bike is a three loop affair, in the way up we battled the wind some, and in the way back, I had the tail wind and I am sure I was cruising pretty fast. The fist lap was a pretty happy one. Lots of people and even though some were drafting or blocking, the majority were good sports. I had one incident, this guy passed me and as soon as he passed me he slows down. I was like WTF? If you are going to pass me, you are going to continue with the same passing pace, I got pissed so I passed him again. And then he did the same thing, so I told him to take a hike. To either pass me and keep going or let me go. So he let me go, never saw him again. I was drinking plenty and of course I got a need to pee, there were toilets in every single aid station, and in all of them there was a line. So I did what I had to, I stood up in my bike relaxed the muscles and just went, it felt good, I had to do it a couple of more times again. In my head I had my anthem and keep saying



And before I knew it the bike leg was over. I only stopped once, at the special needs bag, to exchange my nutrition bottles. Did the turnaround to start the last loop got ready to battle the wind again. It wasn't as bad and was looking forward to the final turnaround so I could cruise and as soon as I made the turnaround I noticed that the wind had change directions. Now I had a headwind, not what I needed or wanted. But needless to say, I had a great bike leg. Unknown to me how much my swim or my bike timing was since I decided to go out naked (no electronics). I had my watch but the only thing I was monitoring was my nutrition, every 15 minutes I would take a sip, chased it down with water and repeat. It worked well. When we were passing mile 99 I was like.. OMG, it is almost over. And I was feeling great, so I hammered the rest of the way. Getting into town was awesome, lots and lots of people cheering and having fun. It was great.

As soon as I got to the dismount line, a volunteer took my bike away and I went to the changing tent again. Another volunteer had my bike to run bag and just like the first one, helped me to change and get ready for the run. I left the changing tent and got more sunscreen (too much I think) and I was on my way to run a marathon. I was happy and I ran the first two miles sub 8 (I started my stop watch when I left transition), and I thought OK Luis "Relax, take your time". So I slowed down and settled in a pretty good pace. After all this is my event right? When running a marathon you know that you have a risk to hit the wall at mile 20, at the ironman you start with the wall. Soon I realized that I was pretty tired and my legs were not moving as fast as I wanted them to move. I maintained a pretty good pace and then the sun started to go down and my run was minimized to a shuffle and finally to a fast walk. I wanted to walk at the aid stations, which I did, but now I was walking in between them too. Not good, then two things happened, first Pam Reed caught me, Pam Reed is an incredible ultra marathoner. She had just finished IMFL two weeks before and there she was. I started to run with her and chatted some and at that moment I was inspired. I picked up my pace and did not stop running until I crossed the finish line.

I was running through a sea of liars, they kept shouting "Hey you, Looking good". Are you kidding me? That is a lie, it is funny no matter in what state you are in a race, spectators always tell you "looking good" Is that a question or an affirmation? If their comment annoys the hell out of you, you probably ARE NOT looking good and you are about to pass out. They have no idea that somebody replaced your shoes with bricks, or somehow your shorts turned into sandpaper "down there" and your pee is of the color of coke by now. They don't know that the blisters in your feet are about to pop, they don't know that your whole body hurts like hell with every step, Looking good? I don't think so, feeling good? Hardly! It will be great if instead of saying looking good they will say something like "You are awesome and even though you feel like $hit right now, it will feel good in the morning, and I am in awe for your awesomeness, I do want to have your babies (if she is hot), you are a freaking Superstar" or something like that.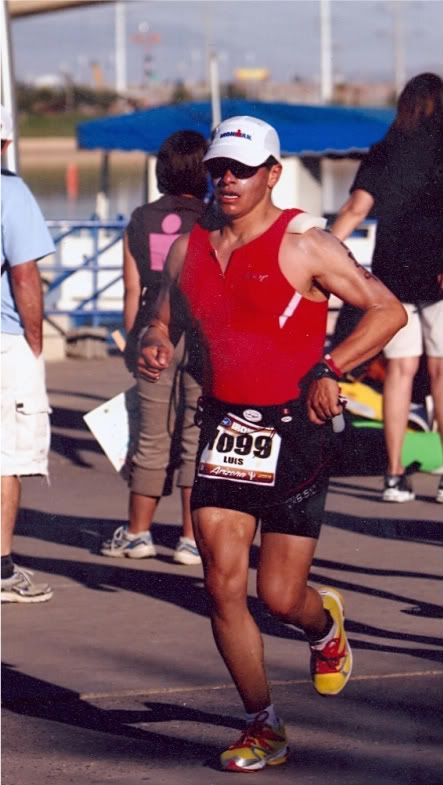 During my run I saw a couple of friends Joe (the biggest loser) and Dolores. And then I saw that I had 2 miles left so I picked up the pace, and I ran pretty fast the last mile, as soon as I went into the last stretch, there was this guy who was coming from behind in an all out sprint so I took him on. We sprinted like bats out of hell until the end, the bastard bit me, but it added some emotion to the finish. This is my third IM and I not once I have heard Mike Riley say "Luis Velasquez, you are an Ironman". He does it, but I guess I am too busy and emotional to hear him.


And then it was over, the rest was the standard end of the race thing. Here is your finisher medal, you shirt and hat. Lets take an overpriced finisher picture and then to the food tent. In there, I just could not eat anything. Waited for a massage, got my massage and then called my friend TJ. She came looking for me, I went to pick up my bike, put her in the car and then came back to see other people finish. The finish at an IM is very emotional, it is amazing. Love to see people crying in disbelief, it is amazing how we can push our bodies and still have plenty to sprint to the finish line. My friend TJ drove us to a food place where I got some real food and then back to the hotel and went to bed with a big smile in my face.

The end..

Finishing the IM triathlon has given me the most amazing feeling of accomplishment, again. It is very inspiring and most importantly, very satisfying. It is something amazing, but not impossible; we are stronger that we think we are. And not matter what is your physical condition if doing an Ironman triathlon is what you set your mind to do and are willing to do the work, you too can do it. Wanna try? Drop me a line, give me a call and we can talk it over.
I have decided that I am going to do one triathlon a year, and I hope I can do an Ironman a Year until I am 90. In the meantime, I will keep doing what I think comes natural to most of us, running that is. You put on your shoes and get out the door and you come back with a satisfying sense of accomplishment, it is effortless and it is fun.
Ironman Arizona was a great experience, seeing Rudy on the bike was very inspiring. He was all the way to the right, like as if he was not in the race and my GOD Rudy, you are an Ironman. (See Rudy Ironman Story here). I recommend to read this with paper tissue at hand, it will make you cry. I heard that he stopped at a red light, can you believe it?. He is an amazing person which really puts a reality to the old saying "I was sad because I had no shoes, until I saw a man who had no legs". And now we can add, "And this man completed a freaking Ironman triathlon" How does that make you feel? I tell you how made me feel, it made feel inspired, it made me feel blessed.

Check Rudy on the course... Go Rudy, Go..

What I love about endurance sports is the sense of accomplishment that they give you. Our bodies are amazing machines that respond to stress, the more you stress them the more efficient they become. We are natural runners, our ancestors used to run their pray down. And now, I am going to get my brand new running shoes, open the box peel back the tissue paper, look at those amazing pristine shoes lift the box to my face and take in that smell deeply. Can you smell the potential, the toxins or the insanity? I smell potential; definitely potential. Yay!! Got to go running now..